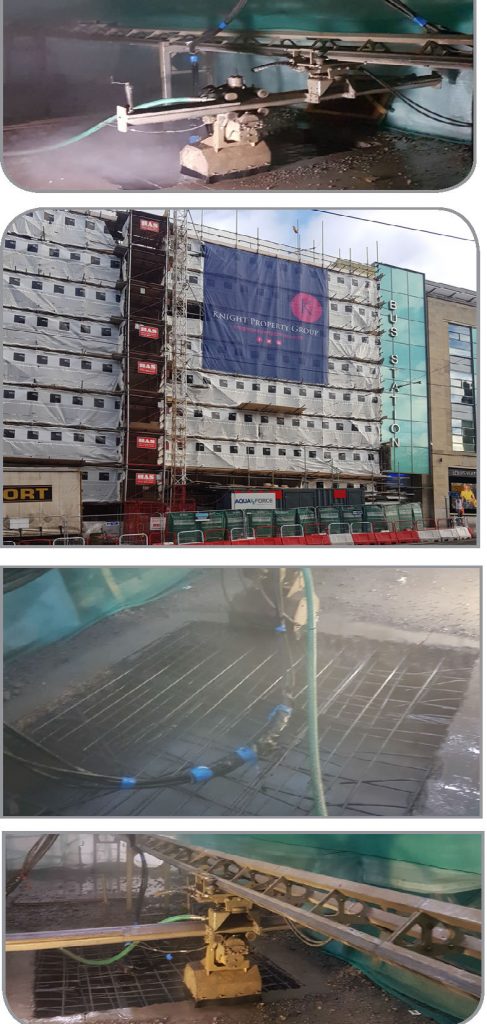 Main Contractor: ISG
Client: Knight Property Group
Scope: Concrete cutting / hydro demolition
Works Commenced: October 2017
Works Completed: January 2018
Cubic Metre Removed: Approx 60m3
DOWNLOAD CASE STUDY PDF HERE
ISG is undertaking extensive refurbishment of 4 North St Andrews Square in the centre of Edinburgh, known previously as Edinburgh House.
The £8 million redevelopment of the eight storey building will include the addition of an extra floor at roof level, open plan floor plates and bike storage facilities. Once completed, the building will accommodate up to 500 staff and offer stunning views over the city.
Aquaforce was engaged to undertake the concrete cutting, creating approximately 10m x 3.5m penetrations through the existing 8no post tensioned floor slabs of varying thickness, 200 – 300mm to facilitate the construction of a new lift shaft in the centre of the building.
To carry out the concrete cutting works, both handlance and robotic water jetting techniques were used. Aquaforce used its own Aquajet Aquaspine robotic cutting head and PP700 pump unit to carry out of the work. The PP700 produces 256L/min at 1000bar when robotic cutting. When handlance works were required, the PP700 unit was set to produce a reduced flow of 48L/min to enable the trimming works to be carried without the requirement for a second pump unit on site, reducing both cost and space required on site.
Aquaforce also provided one of its Siltbuster DS4 & FB50 water treatment units to enable treatment of the waste waters to be carried out prior to discharge to foul sewer by ISG.
The works were completed on programme and budget and to the satisfaction of the Client.