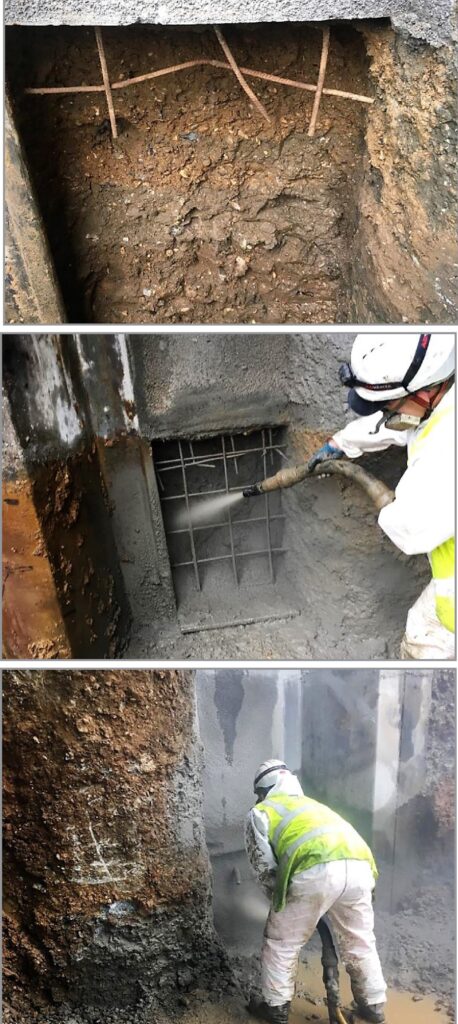 Client: Highways England
Principal Contractor: Balfour Beatty Vinci JV
Scope: Spray concrete application
Works Commenced: February 2021
Works Completed: February 2021
The M4 is the main strategic route between London, the West of England and Wales. Highways England is currently upgrading the route from junction 3 at Hayes and junction 12 at Theale to a smart motorway, with the aim of reducing congestion and supporting economic growth within the region.
Following the successful saw-cutting and hydro demolition works carried out by Aquaforce Concrete Services on the M4 Thames Bray Bridge project, Aquaforce was engaged again by Balfour Beatty Vinci Joint Venture (BBVJV) to carry out spray concrete application to the abutment walls of the new M4 Ascot Road Bridge near junctions 8/9 as part of the smart motorway upgrade works.
The cold January weather conditions posed issues for the curing of the concrete and the works were phased, further compounding delays caused by the cold weather. To minimise the impact upon the programme, Aquaforce worked alongside BBVJV utilising rapid setting materials and heated enclosures to ensure the 3m3 spray concrete panels were completed on time and to the exacting project specification.
In addition to the spray concrete team, in accordance with the M4 SMP requirements Aquaforce provided a full time non-working supervisor (FLS) to oversee the operations, ensure compliance with the specification and the project health and safety requirem